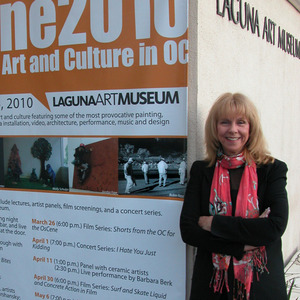 Follow
Robin Repp
Huntington Beach, CA, United States
About Robin Repp
My work explores the concept of anticipation of the future or the unknown. With influences as diverse as Thomas Struth, Dorthea Lange, Elmer Bischoff, and Minor White, I have been using infrared photography, painting, printmaking, the figure in the landscape and social commentary topics to tell my story. Ever since Berkeley, I have been fascinated by protest and social issues set in the landscape. What starts out as often simple white or abstracted figures against a dark background, leaves the viewer with a sense of dreamlike questioning. Who are these people and what is going on here?
Education:
EDUCATION
M.A., Candidate, University of California, Berkeley
B.A., University of California, Berkeley

Events:
Opening reception Terra Incognita
August 1, 2020 from 6-10 Pm

Panel Discussion Berkeley Art Museum
May 14, 2020 at 4:00 pm

TCB Exhibition 2020
Begins Feb 1
Photograph on Billboard in L.A.
https://www.thebillboardcreative.com

Opening reception Sanchez Art Center
January 10, 2020 7-9pm
Pacifica, Ca.

Selective Memory, a book by Robin Repp ©2019, http://www.lulu.com

Artist Discussion Panel, Therefore I am, 4:30 pm, August 3, 2019 at Orange County Center for Contemporary Art

Robin Repp's work is included in the newly released books, "Signs of Resistance", by Bonnie Siegler, "Posters for Peace", Thomas Benson and in "4973:Berkeley Protest Posters", by Barry Miles.

Her work has been included in exhibitions in the Laguna Art Museum, the Oakland Art Museum, the Berkeley Art Museum, Museum of Art & History, Lancaster, The Shapero Modern, London, The Victoria & Albert Museum, London, Griffin Museum of Photography, MA, and various galleries such as the LA Artcore Gallery, Huntington Beach Art Center, Rochester Contemporary Art Gallery, N.Y.C, The Studios Inc. Gallery, Kansas City, The Irvine Fine Arts Center, The Brea Gallery, CSUF Gallery, Long Beach Arts, Worth Ryder Gallery Berkeley, VAALA, and the Orange County Center for Contemporary Art.
Exhibitions:
Politically Charged
Blue Line Arts, Sacramento, 2020

Terra Incognita, Five Artist Couples
Orange County Center for Contemporary Art, 2020

Peace Now!Lucia Olubunmi Momoh, Curator,
Berkeley Art Museum, 2020

The Creative Billboard Exhibition,Christopher Vroom, Curator, Downtown Los Angeles, 2020

Feat to Fire: 100 years of Women Suffrage
Sanchez Art Center,Jan Rindfleisch, Curator,
Pacifica, Ca, 2020

Therefore I am, Meghan Doherty, LACMA curator, OCCCA, 2019

OC Edge, OCCCA, 2019

Santa Ana Photo Festival, California Center for Digital Arts, 2019

Craft Revolution, Staci Steinburger, LACMA curator, OCCCA, 2019

Confronting Mortality, curator Jane Szabo,L.A. Photo Curator, 2018

All Media, Dave Barton Curator, Irvine Fine Arts Center, 2018

LA Artcore 2nd Annual Photographic Exhibition, LA Artcore Annex Gallery, 2018

Inside/Out, Orange County Center for Contemporary Art, 2018

Tree Talk, Paula Tognarelli, Curator, Griffin Museum of Photography, MA. 2018

11x11, Square I Gallery, Claremont, Ca. 2017

Small But Mighty, Magoski Art Colony, Fullerton, Ca. 2017

Overlooked and In Between, Jeff Alu, Curator, L.A. Photo curator, Ca. 2017

Art as Protest, Tyler Stallings, juror, Orange County Center for Contemporary Art, 2017

Selective Memory, Solo Exhibition, OCCCA, Santa Ana, Ca. 2017

Reclaiming Earth, Jewett Gallery, San Francisco, 2017

You Say You Want a Revolution?, Records and Rebels 1966-1970, Curated by Victoria Broakes , Victoria and Albert Museum, London, U.K., 2017

Collector's Choice, Channel Islands Studios, Camarillo, Ca. 2016

11x11, Square I Gallery, Claremont, Ca 2016

Huahine Series, Infrared Photography, Paradigm Gallery, Santa Ana,Ca 2016

ArtStart, OCCCA, Santa Ana, Ca. 2016

Airborne, Worth Ryder Gallery, UC Berkeley, Ca, 2016

XPhotoX, Orange County Center for Contemporary Art, 2016

America in Revolt, Shapiro Modern, Barry Miles,curator, London, England, 2016

Smaller Footprints, Robert Benitez, & Linda Weintraub, curators, MOAH, Lancaster, Ca. 2016

Generations: 40 Hues between Black and White, James Dinh, curator, OCCCA, 2015

11x11 Group Exhibition, Square i Gallery, Claremont, Ca. 2015

Fashionistas Fight Back, Shana Nys Dambrot, curator, OCCCA, 2015

Moist, Ginger Shulick Porcella, Curator, OCCCA, 2015

The Art of Stem Cells, Leslie Davis, curator, OCCCA, Santa Ana, Ca Sept. 6-Oct 10, 2014.

Home,James Dinh curator,VAALA and OCCCA, 2014,

Solo Exhibition Square i Gallery, Claremont, Ca, Mar. 2014,

The Search, inspired by Jet Propulsion Laboratory, Orange County Center for Contemporary Art, opening Dec 7, 2013,

Give Your Best Shot, Curator, Jeff Alu,Orange County Center for Contemporary Art, 2013,

Square i Gallery, Claremont, May 2012.

Random Acts of Time, Curator, Bill Moreno, 2012.

Open Dialogues Artist in Residency at Huntington Beach Art Center March 1- April 9, 2011.

Revisiting Beauty, Peter Frank, Curator,OC Center for Contemporary Art, ,2010

City Reconsidered, Darlene D'Angelo, curator, The Huntington Beach Art Center, 2010

The Oscene, Grace Kook-Anderson, Curator, Laguna Art Museum, 2010

Repp's work is in many private collections, as well as the following public collections:
The University of British Columbia, Canada
University of California, Bancroft Library Berkeley, Ca
The Center for the Study of Political Graphics Los Angeles, CA
AOUON Archive of Political Posters, Berkeley
The Thomas W. Benson Collection, Penn State University Library
City of Huntington Beach, Ca
City of Anjo, Japan
Recent Activity