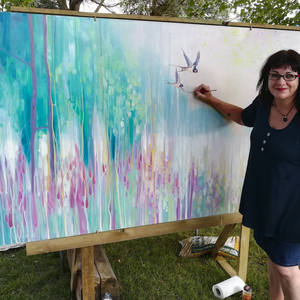 Follow
Gill Bustamante
Forest Row, East Sussex, United Kingdom
About Gill Bustamante
I am a professional artist based in Sussex and I paint large original landscape and seascape paintings in oil on canvas. My painting style is a fusion of Expressionist, Impressionist, Semi-abstract, Art Deco, a little Art Nouveau and whatever mood I am in that day. I am inspired by the patterns of nature and the energy, colours and spaces of the landscapes and animals around me. I like to think that paintings have 'little souls' woven into them by artist's and that these are what call to a viewer (or not as the case may be) and give a painting presence and desirability. All of my paintings have a story added in to them - sometimes humorous, sometimes mystical, sometimes with a message of hope or encouragement. I have been told by customers that that my 'unique selling point' is that my paintings look as good close up as they do from a distance and that they emanate a tangible feeling into their environment. My aim is to make art that offers a glimpse of spaces and possibilities where people can escape the manic pace of life and imagine themselves somewhere better – even if just for a little while...
Education:
I have a B.A. Hons. in Fine Art - Sculpture (I am self taught as a painter) which I did at Brighton and completed in 1982 after a foundation art course at Chelsea. After college I worked at the Open Studios on Brighton seafront producing fibre glass sculptures and other commissions together with an architect who incorporated my sculptures into his designs.From 1992 to 2000 I worked as a portrait artist for Andrew Hall (Artists Hand - a major art agent in Sussex at that time). Since 2001 to present time I have been a self employed artist and art tutor.
Events:
I do take part in exhibitions and events occasionally but find it easier to simply invite people to visit me and see my artworks at my home studio by appointment if they are interested. I sometimes 'loan' paintings to people before they buy so that they can test run the painting in the place they want to have it.
Exhibitions:
Exhibitions History:
2004 and before, Various open exhibitions including Chelsea in 1997, Summer exhibition, Old Convent East Grinstead in 2000, and Learning Centre East Grinstead.
2005 Jan - Shared exhibition with SEA, Mall galleries, London. May - solo exhibition Chequer Mead Art Centre, Sussex.
2006 June - shared exhibition Arabesque Gallery, Bahrain. Jan - solo exhibition Chequer Mead Art Centre, Sussex.
2007 August - solo exhibition at Hawth Theatre, Crawley, West Sussex. March - shared exhibition Obsidian Art, Bucks. May - solo exhibition at Pottery Painting Cafe, Brighton Fringe Festival.
2008 Sept - Mural Mosaic Canada with 238 other Equine artists mural now being toured throughout Canada and US. August - shared exhibition St Hill castle, East Grinstead. June to Sept Solo exhibition at Chequers Hotel, Forest Row, East Sussex. May - solo exhibition at Wealdon House, East Grinstead. Jan to Feb shared exhibition Iona Gallery, Oxford. All year Gallery presence at Objects d Art, Lingfield, Surrey. Feb - shared exhibition Blue Moon Gallery, Tunbridge Wells
2009 Feb - Solo Exhibition Brambletye Hotel Forest Row in February (25% profits to ActionAid Charity). May - Ambassador Hotel, Brighton Fringe Festival. June - The Art House Gallery 2 in Havant. July - Gallery LeFort, Bath - equine exhibition with other leading equine artists. October - The Gallery, Rottingdean in East Sussex solo exhibition.
2010 onwards – Due the internet becoming my main source of sales I only exhibit occasionally in real world exhibitions. Most of my art is now sold through online galleries. I have however, had solo exhibitions at: Sheffield Park (National Trust), Lingfield Race Course, Brighton festival, Brighton Fringe festival, New Art Fair, London, Kingscote Vineyards, Sussex, Wills Art Warehouse, London and Shoreham Gallery where I was a member of the artist collective there for a few years. I also have work in some galleries occasionally which include Art at 5 in Brighton, Gabriel Fine Art, London, Graham Stevens Gallery, East Grinstead and, Da Vinci Hotel, Eastbourne.

Recent Activity