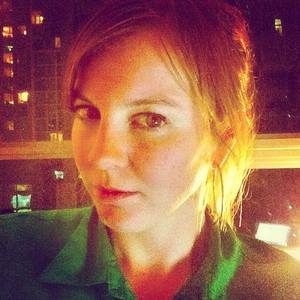 Follow
Amy Frith
Vancouver ( Originally From The Headwater Hills of The Greater Toronto Area ) , BC, Canada
About Amy Frith
Painting is my way of taking action as I choose to celebrate my right to enjoy trusting my intuition . Originality is important to me , and I feel that my art both communicates and protects mine . I am consistently pushing myself to grow as I take risks as I conduct new experiments . The possibilities are always endless and I love to feel that I am diving into an expansive space full of surprises and new growth . This is my way of living in alignment with my courage and full potential . The more I create , the more ideas I have in terms of new arrangements of shapes and colours . I love the feeling of being free to consistently upgrade myself as I embrace my sense of limitlessness . I will always remain loyal to my creativity . One thing that I can't paint without is my voice . I know that may sound strange , but , honestly .... I sing and rap as I paint , and I simply can not separate my voice from my paint brush . It's all one song to me and it never ends .
Education:
Kootenay School of Art & Design 1999/2000
Mixed Media Art
Nelson BC Canada

The Naked Voice Foundation Intensive Workshop With Chloe Goodchild , Hollyhock Institute 2003
Cortes Island BC Canada

Sound Healing Workshop & Empowering The Goddess Circle With Ariel Spilsbury 2005
Private Oceanfront Mansion , Roberts Creek BC Canada

Vipassana Meditation Courses As Taught By S.N. Goenka , three ten day courses completed between 2003 & 2012
, Dhamma Surabhi Center , Merritt BC Canada

Yoga
I love to study various types of yoga with various teachers in various locations .


Events:
AUCTIONS :
Annex Patio Artshow Auction 2002 , Raised Funds For Hospice , Toronto

PUBLIC LIVE PAINTING PERFORMANCES :
Shambhala Music Festival, Salmo BC 2004-2013 , Salmo BC Canada
Astral Harvest Music & Arts Festival, Driftpile AB Canada 2010 & 2011
Art Battle Live Painter , Victoria BC Canada , September 10th 2015
Exhibitions:
Slocan Valley Mural Project Artshow, Winlaw BC Canada 2001
Brewed Awakenings Coffee & Tea House, Grand Valley, ON Canada 2002
The Annex Patio Art Show, Toronto, ON Canada 2002
Aquarius Cafe, Guelph, ON Canada 2002 & 2003
Nelson Artwalk, Nelson BC Canada 2004
Hemp & Company, Nelson BC Canada 2004
Bacchus Books, Golden BC Canada 2008
Cowichan Valley Fine Arts Show, Duncan BC Canada 2012
AEF studio yard sale , Sahtlam BC Canada 2013
Bikram Yoga Cowichan Valley , Duncan BC , Spring & Summer 2014
Group Contemporary Painting Exhibition December 9-21 2015 , The Brick Lane Gallery , London UK

PUBLIC MURAL PAINTINGS :
Hyland Heights Elementary School , Shelburne Ontario 1997
Turtle Backpackers Hostel , Victoria BC 1999
Bumps Too Backpackers Hostel, Big White Ski Resort BC 1999
Slocan Valley Youth Mural Project , 3 large mural collaborations , Slocan Valley BC 2001
Shambhala Music Festival , Fractal Forest , Salmo BC 2010
Shambhala Music Festival , Labyrinth , Salmo BC 2012
Recent Activity